All web site content ©1995-2014 Brian Reichow.
Original photography may not be reproduced without my prior consent.
2003 Mitsubishi Eclipse GTS
May 10, 2003 - Present
Color: Titanium
Transmission: 5-speed manual
Engine: 3.0L 6-cylinder
Date purchased: 5/10/03
Mileage: 169,000+ (so far)

This is the 3rd car I've owned. I bought it new for $20,900 just five days after my 30th birthday. Despite having a powerful V6 engine delivering 210hp, fuel economy during its first 10+ years has averaged 24-25 mpg in Minneapolis city driving, with 30 mpg typical on the open road. It's a great car. Currently, it is outfitted with Yokohama tires.
The Eclipse has thus far seen pavement in 27 states: Minnesota, Iowa, Missouri, Wisconsin, Illinois, Indiana, Ohio, Pennsylvania, New York, Connecticut, New Jersey, Michigan, Vermont, New Hampshire, Maine, Massachusetts, Rhode Island, Delaware, Maryland, Virginia, West Virginia, Kentucky, Tennessee, North Carolina, Georgia, South Carolina and Nebraska, plus the Canadian provinces of Ontario and Quebec.
---




Sound system consists of: Sony SDX-S310BTX digital media player (2012), 128GB iPhone 6 (2014), MB Quart Reference Series RKC116 6.5" coaxial rear speakers (2001), MB Quart Premium Series PSD216 6.5"/1" front separates (2003), an Alpine MRV-F352 5-channel amp (1998), and a Rockford Fosgate Punch 12 subwoofer (1998).
---
May 19, 1993 - May 10, 2003 (1993 Mercury Capri)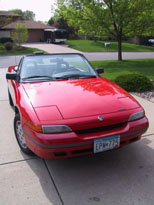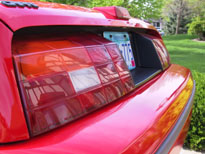 Full details & photography
---
1990 - May 19, 1993 (1986 Mercury Lynx L)
My first car. This was my ride late in high school and early in college. It was basic, functional, and that's all I can say about it. Oh yeah, it was red. It had no pizzazz or style.